FAQ's
Show Filters
Hide Filters
Sort: Date
Date
Featured
Alphabetically
Installation
Operation
Maintenance
Warranty
Showing 20 results for the selected filters.
Reset Filters
I don't see a Fireplace Insert that fits my needs so can you make one custom?
Yes, custom fireboxes are now available!
Is the warranty the same length for both residential and commercial?
Yes, the warranty is 2 years from the date of purchase for both residential and commercial installations.
Do you offer bulk purchases for the commercial production of sanitizer?
Yes, please contact our National Sales Manager, Chris Alvarez at (310) 592-3326 or email [email protected]
What are the ingredients of e-NRG ethanol?
e-NRG is pure alcohol, made from a blend of 92% ethyl alcohol (ethanol) and 8% isopropyl alcohol (isopropanol).
Which heater model is the best for me?
This depends on the installation environment. If you own an open terrace, where sometimes the wind is blowing, we highly recommend only the SPOT power heatres.
But if you want to heat your glass house, conservatory or loggia, we entrust the ambient heaters VISION to you. These perfectly match well covered areas.
A rule of thumb is: The more open the area the more open the heater has to be – even if the other model looks nicer and is pleasing you more.
What is the shelf life of e-NRG Fuel?
The shelf life is 3 years if kept in a tightly sealed container and in a cool, dry area (approx 20°C).
How to install a TV or AV equipment above an ethanol fireplace?
This design can be achieved as long as the TV is protected. You have 3 possible solutions:
Solution 1: The TV needs a non-combustible mantel/ledge to act as a heat shield
Solution 2: The TV needs to be recessed in a niche
Solution 3: The TV needs to sit back off the level of the flame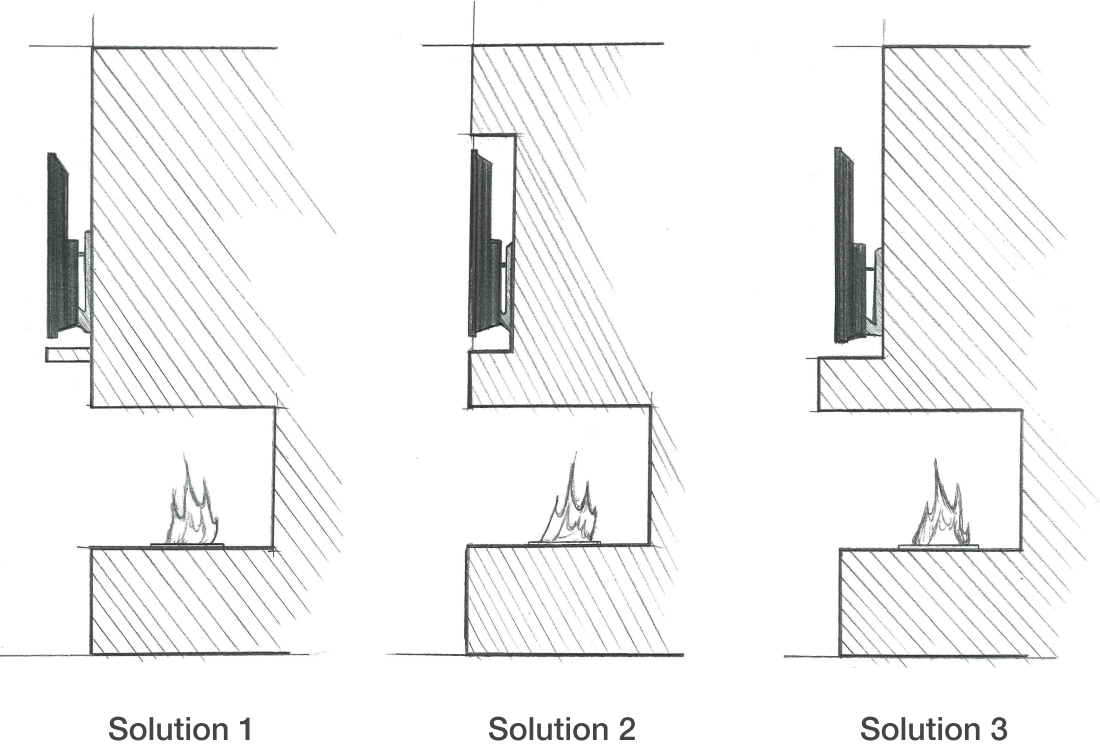 How to update your billing and shipping addresses?
Open your Account and click Addresses. If you have an address you can click the Edit option. If you don't have an address you're gonna be prompted to add one.
Will my EcoSmart Fire heat the room?
All EcoSmart Fires are ventless, meaning all the heat stays in the room rather than escaping up a flue. Increased heat retention means increased fuel efficiency and a better chance of staying warm. While providing warmth, EcoSmart Fires are not designed to be used as a room's primary heat source. Please see the burner section in our manual for full details.
Which EcoSmart Fire is right for me?
Ethanol Burners - Our Ethanol Burners are at the heart of every EcoSmart Fire. They are both the containers of the clean-burning bioethanol and the source of the flame. Completely self-contained, the burners have no need for exterior tanks or utility lines and their stainless steel bodies make them suitable for both interior and exterior use. The XL burners offer a linear flame while the BK5 burner has a substantial and adjustable flame housed in a compact body. EcoSmart's AB Series offers a round burner ideal for fire pits or other circular fireplace designs.
Fireplace Inserts - Fireplace Inserts are stainless steel enclosures that house EcoSmart's burners. They can be installed into walls or cabinets and, just like the burners, are suitable for indoor and outdoor use. All of our fireboxes are zero clearance, meaning that the dimensions of the firebox are the exact dimensions of the opening you'll need in your wall. The fireboxes, like all our products, are vent free and its zero clearance dimensions mean installation is hassle free.
Freestanding Fireplaces - Created as standalone units, the models in our Design Fireplaces range require little set up and no installation. These units are completely self-contained and offer the same clean burning flame as our fireplace inserts without any of the installation requirements. Used as a room centrepiece or even as a space divider, Design Fireplaces offer the luxury of fire without any of the restrictions. You can even move the units from room to room as your fire needs change.
Outdoor Fireplaces - Whether used on a table top or as glowing ambience set along a pathway, EcoSmart's Outdoor Fireplaces offer a wide range of stylish fire feature options. Made of steel and glass, the outdoor units are designed and built to withstand the outdoors. Though styled for outdoor use, they are just as attractive when used in an interior setting, enabling them to be relocated when the weather permits. Every season is a good season to enjoy EcoSmart Fire.
All our products are highly versatile and designed to be used in any number of ways with a myriad of materials. There are, of course, safety considerations when working with fire and we do have minimum clearance and room size requirements, as well as material requirements, which can be found within each product's Technical Specifications. Still not sure which EcoSmart Fire is right for you? Give us a call and one of our product specialists will be happy to help.
How can I track my order?
Once your order has been dispatched, you will receive an email including a copy of your invoice and tracking information. Please follow the instructions within the email to track your order.
How long does it take to assemble?
There is virtually no assembly. Our Freestanding and Fireplace Grates ranges are designed to be placed into the desired location, secured into position, and operated immediately. Our Fireplace Inserts are designed to slot into place, secured and built around with your preferred finish – again a quick and easy installation – so your builder or interior designer will love you!
The longest part of the setup process is trying to figure out where you want to place it – be sure it complies with our clearance requirements particularly with regard to moving objects like curtains, tree branches and so forth.
Do you offer installation services?
All EcoSmart Fires Fireplace Inserts are designed to be easily installed and come with a simple set of instructions. The Freestanding and Outdoor ranges are easy enough to set up on your own. A builder, contractor, or cabinetmaker of your choosing will be able to complete your firebox insert project with straightforward framing. Our Fireplace Grates range provides the simplest conversion solution and can be installed as long as utilities have been shut off and the fireplace meets our clearance requirements. Installation is little more than placing the grate in your fireplace and closing the flue. Once that is done, you are ready to light your EcoSmart fire.
Is e-NRG safe to be stored inside?
Ethanol is a stable liquid that is safe to store indoors as long as it is kept away from an open flame. It is also safe to be kept in garages, utility rooms or other outdoor storage areas without any risk. In accordance with various global regulations, ethanol (100% alcohol) cannot be sold in its purest form to avoid human consumption. A bittering agent is added to the formula to prevent ingestion.
Does e-NRG bioethanol smell?
Bioethanol has substances added to it in order for it to be labelled 'de-natured'. The burning of these substances may cause a slight smell upon initial lighting and will dissipate with time. There is also a slight odour once the flame is extinguished – similar to when you blow out a candle. This also dissipates into the air.
How do I clean my EcoSmart Fire burner?
Cleaning of the burner should be done only after you have used 50 litres of fuel or as soon as you notice a black residue forming around or on the burner. Before starting, make sure the burner is off, empty of ethanol, and at room temperature. Spray a multi-purpose cleaner on the surface of the burner and wipe with cloth, making sure to wipe in the direction of the grain. If material has fallen into the burner use a vacuum cleaner to remove debris through the burner opening. If your burner smells unusually strong after extensive use, remove the empty and room temperature burner from its surround and wash in hot, soapy water. Rinse thoroughly under running water and wait until burner is completely dry before placing back into its surround and reusing.
Note: Stainless steel will rust or corrode over time if contamination or debris is not cleaned or removed immediately. When not in use, we recommend that you protect your fireplace from water damage or corrosion with a protective cover and the regular use the burner lid included with your model.
Do I need to service my product in any way?
Yes, normal maintenance and care is very important! Instructions are included in the Installation, Operating and Maintenance Manual supplied with your product.
What if I have modified the product?
If the product has been modified or altered in any way, it will not be covered under warranty unless the modifications were approved in writing by MAD Design Group. However, we are happy to provide assistance with any issues you are experiencing.
If I purchased from a retailer, can I contact MAD Design Group directly for warranty?
It is best to contact the retailer where you made your purchase. The retailer will help you resolve the issue or submit the warranty claim on your behalf.
What does warranty actually cover?
We offer a full two year warranty from date of purchase on stainless steel parts including raw, linished and powder coated. Mild steel including powder coated and chrome plated, concrete composite, glass, leather, fabric and MDF (painted or cement rendered) are covered for one year from the date of purchase.
Chips and scratches are not covered by warranty. Natural variation in color, texture and porosity may occur with Concrete Composite products and are considered inherent and valued qualities of the material. Non-structural hairline cracks are possible and shall not be considered a manufacturing defect.